Hangout Places in Hyderabad
Are you looking for some of the amazing places to hang out with your gang? Whether you are school/college students or simply a group of close friends or cousins, you always want to hang out in new places.
Here are some of the best places to hangout with your friends in Hyderabad:
1. Starbucks
You must visit this cafe with your friends. You will find high seats, wooden tables, cheerful and courteous waiters. People come here to enjoy coffee, green tea, and red velvet.
2. Beyond Coffee
This boutique coffee shop is a must visit, if you will love to stare at art galleries with your friends while enjoying pizzas and sandwiches with your friends. Pasta, malai chai, and soups are must-try.
3. Cafe Nandini
Most college students and employees roam in cafes in the evening as they want quick bites. In this cafe's menu, you will get a huge variety of options. You must try Idly and Sambhar Vada with green chutney if you love South Indian food.
4. Cafe Melange
You can visit this place to hangout with friends. Nice place to have coffee and food. You can enjoy playing snooker. It is not the best place for couples.
5. The Coffee Cup
This is simply elegant cafe with wooden decor. You will find outstanding ambiance. You must try chicken sizzler, mojito pitcher, and spaghetti with paneer balls. The paneer balls will melt in your mouth. You will find nicely cooked spaghetti. You must try this place for amazing experience.
6. Minerva Coffee Shop
You must visit this place with your friends if you like North Indian food. You must try tasty Palak paneer, masala kulcha, and dal makhani.
7. Cafe Coffee Day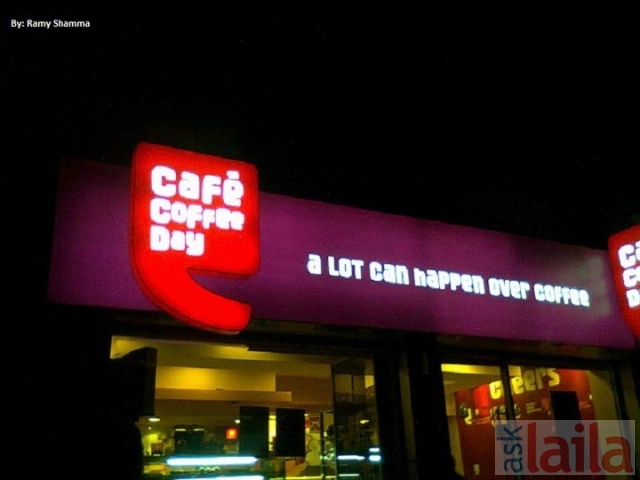 You must visit this cafe with your friends. This is one of the most popular cafes in Hyderabad which was made in 2010. You can expect delicious food cuisines. You must try berry herb salad and garlic bread.
8. Conçu Cakes

You will get tasty food. They have mastered the art of balancing to make the desserts taste good. You must order caramel dessert for a great treat with your friends.
9. Testa Rossa Caffe
You must head to this popular cafe in Banjara Hills for a hearty and appetizing meal. You will get some of the most appreciated cuisines here. The delicious foods offered will satiate every food craving.
10. Di Bella Coffee
You will get attracted to pool tables and gaming consoles. Most people love its styling and simplicity. It is worth praising. They enjoy their meal without any unwanted hustle. Although the ambiance is decent, the food is extremely tasty. You will get snacks/starters with the tasty dishes in the menu. It has a coffee lounge look. You can expect multiple seating arrangements here.